7 Amp Kit - Ford Windsor 351 V8, Carby, N.A.
FREE ICE 2316 VOLTAGE BOOSTER WITH KIT - ENDS JAN 31

7 AMP Street Kit - Ford Windsor 351, carburettor, N.A.
This ICE Ignition kit is for the LATE Ford Windsor 351 with a 1 3 7 2 6 5 4 8 firing order fitted with the following:
Carburettor(s) - including electronic carburettor(s).

No forced induction or nitrous.
​​This ICE Ignition kit is ideal for most street & race cars. This kit can also be used with electronic carburettors that control "Air & Fuel" only. The Digital Inductive Spark technology delivers the most powerful spark and longest duration of any ignition system on the market. More spark means greater tuneability which leads to improved performance.
The ICE Ignition 7 AMP Street Series Control Box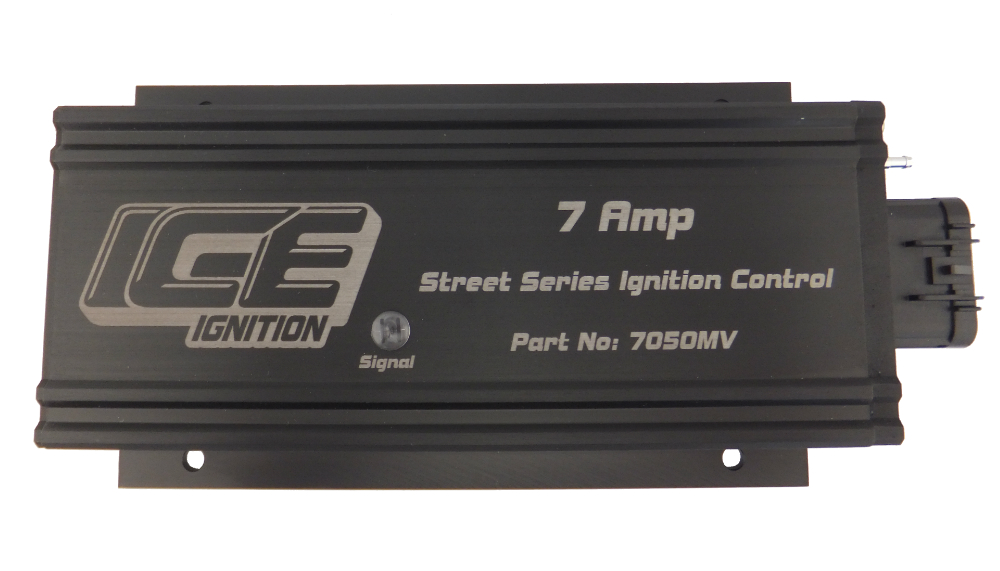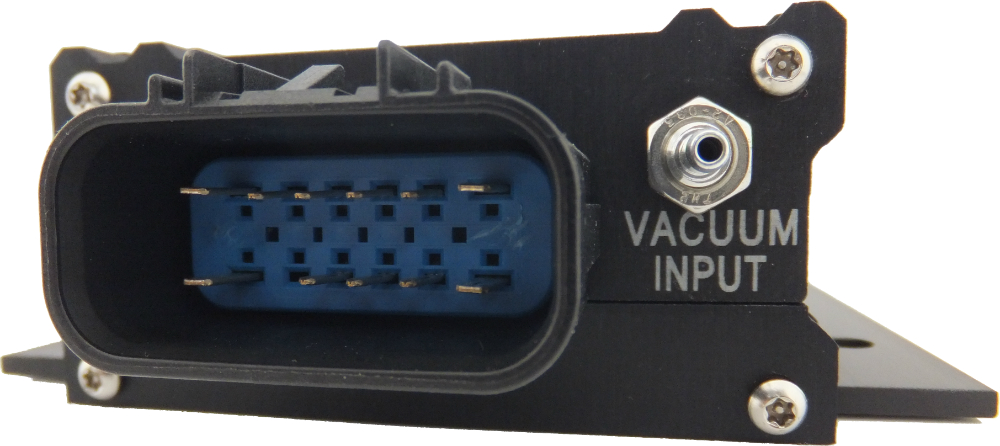 The ICE Ignition 7060MV Street Series Control Box features the following.
16 Pre-programmed ignition curves - The push-button selectable curves enables total timing adjustment in real-time. It eliminates the need for distributor re-graphing when engine upgrades are introduced. It allows you to adjust total timing for changes in fuel quality.
Vacuum Advance Manifold Absolute Pressure (MAP) Sensor - The MAP sensor detects when your engine is cruising and instantly advances timing to deliver improved fuel efficiency. Use of the MAP sensor is optional, it will not impact on the ignition's ability to deliver the maximum spark.
The ICE Ignition controller must be mounted inside your car. Do not mount it inside your engine bay. ICE Ignition strongly recommends the use of NON-RESISTOR Spark Plugs.
What's in the ICE Ignition Kit?
This ignition kit includes the following
7060MV Controller - 16 pre-defined push-button selectable timing curves & Manifold Absolute Pressure (MAP) sensor.
ICE Ignition Billet Distributor - The ICE Ignition Distributor uses a "Hall Effect Sensor" to communicate with the ICE Control Box. It will not work unless it's connected to an ICE Control Box. Please select from the following options:

Engine Camshaft – The is MOST important, please select the camshaft type from the options list. If you are unsure please call us on 1300 722 580.
LARGE or SMALL Cap Distributor - A "No Cost" option of a SMALL (4" diameter) or LARGE (5" diameter) Cap Distributor. We always recommend a LARGE Cap Distributor if you have the available space. It uses a Heavier-Duty Rotor Button and the post spacing is further apart reducing the risk of crossfire.

ICE Ignition 9FOR810 Pro 100 9 mm leads (Black) - This is a "Plug & Play" lead set with 45-Degree Spark Plug Boots. Lead fitment is AROUND THE VALVE COVERS. If a different lead set is required please contact us.
ICE Ignition 4200 Pro Series Race Coil - It has twice the energy of a standard coil and is the ideal coil for naturally aspirated engines.​
Wiring Loom - It's approx. 2 metres long and is easy to install.
(IK70VASIFOR810)
Product Features & Benefits
You will save money by not having to re-graph your distributor every time you upgrade your engine.

More spark and duration delivers greater tune-ability leading to improved performance.

MAP sensor delivers improved fuel economy under cruising conditions.

Avoid engine pinging scenarios through bad fuel by instantly adjusting your engine's timing.

Three Year Warranty for street applications, Two Year Warranty for race applications
ICE Ignition 7 AMP Kit - Ford Windsor 351 V8

| | |
| --- | --- |
| Engine Type: | All LATE Windsor 351 V8's |
| Fuel Delivery: | Carburettor(s) - including Electronic Carburettor(s) |
| Engine Setup:​ | Naturally Aspirated |
| Controller: | 7 AMP Kit Street Series Controller |
| Controller Features: | 16 curves & MAP Sensor |
| Wiring Loom: | Included, approx 2 meters |
| Distributor Diameter: | Approx 4" |
| Distributor Triggering: | Hall Effect Sensor |
| Distributor Shaft: | 4130 Chromoly |
| Distributor Gear: | Iron Gear for Flat Tappet Cam |
| Distributor Cap Type: | HEI / MALE Post |
| Dist. Plug Wire Retainer: | Included |
| Spark Plug Boot Type: | 45 Degrees |
| Ignition Lead Diameter: | 9 mm |
| Coil Type: | ICE Ignition 4200 Coil |
| Lead / Plug Wire fitment: | Around valve covers |
| Lead Markers & install tool: | Included |
| | |
| --- | --- |
| SKU | IK70VASIFOR810 |
| Brand | ICE Ignition |
| Shipping Weight | 9.2000kg |
| Shipping Width | 0.440m |
| Shipping Height | 0.380m |
| Shipping Length | 0.380m |
| Shipping Cubic | 0.063536000m3 |
| Unit Of Measure | ea |
We offer a 3 year, non-transferable warranty covering defects in materials and workmanship if properly installed. A 2-year warranty applies where the product is being used primarily in a racing application. If installation instructions have been followed and the product is found to be defective, Gear Campus will replace or arrange for repair if returned along with proof of purchase. This shall constitute the sole remedy of the purchaser and the sole liability of Gear Campus Pty Ltd to the extent permitted by law.
The foregoing is exclusive and in lieu of all other warranties or representations whether expressed or implied, including any implied warranty of merchantability or fitness. In no event shall Gear Campus Pty Ltd be liable for special or consequential damages. Products must be returned as originally supplied. Warranty is void if products have been modified or tampered with in any way or installation instructions are not followed.
Be The First To Review This Product!
Help other Gear Campus Pty. Ltd. users shop smarter by writing reviews for products you have purchased.
---
More From This Category